6 PHP Frameworks that are in High Demand in 2020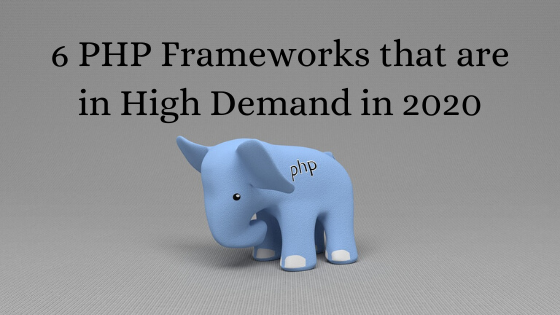 PHP is widely known as hypertext preprocessor, an open-source general-purpose language, especially suited for web development and also can be embedded into HTML.
Literally, PHP, being the most popular server-side programming language in 2020. To develop Static websites or Dynamic websites or web applications, you need a server-scripted language known PHP. 
A PHP Framework is a primary platform that allows developing web applications.Now the question is, how to choose the right framework in 2020?
In this article, you'll learn the PHP framework that is high in demand. But before that let's discuss,
Why use a PHP framework?
PHP frameworks make swift development into reality. PHP framework gives us a well-organized and reusable code which can be helpful in overtime growth. Being a beginner or an expert developer, PHP development services will always assist you in completing your project efficiently and rapidly. 
The 6 PHP frameworks that is in high demand are mentioned below-
1 Laravel: 
One of the most popular and widely used frameworks, hitting the top list from the last few years and yet making its place on top. 
Laravel is a web application framework which holds an expressive and elegant syntax. The main aim of this framework is to make the development process a pleasing one for the developer without reducing the functionality of the application. It is highly accessible, long-lasting and can handle complex web applications with additional security and speed when compared to other frameworks. 
2 CodeIgniter: 
CodeIgniter is popularly known for its lightweight framework, small footprint and hassle-free installation with minimalistic configuration prerequisites. Though it's simple yet powerful, It is highly suitable for the development of dynamic websites due to the construction of strong and reusable components.
It mainly focuses on MVC architecture, top-notch error handling, inbuilt security tools, and simple and excellent documentation. Also, it creates scalable apps.
The framework is very well documented, and it is an excellent choice for beginners. 
3 Symfony: 
Symfony component is a set of decoupled and reusable libraries. 
It is an extended PHP MVC framework and it is the sole framework that follows the standards of PHP and web completely.
Symfony is the perfect option for developing large-scale enterprise projects. It can be easily installed and configured on most of the platforms. Due to the highly flexible nature of Symfony, it can be integrated with bigger projects easily. Both Symfony and Laravel have many common and unique features which make it difficult to choose which framework is better. 
4 Phalcon:
Phalcon is a full-stack PHP framework that was written in C and C++ programming languages. Phalcon is a C-extension and has the most prominent feature that it is blazing fast. Phalcon work as a web server extension written in Zephir and C.
It is easy to install and also suitable for creating highly configurable web applications. The primary focus of Phalcon is its execution speed, asset management, a universal autoloader, and top security and can handle more HTTP requests.
5 Cake PHP: 
If you are looking for a simple and elegant toolkit. Then, CakePHP is a free, open-source, rapid development framework for PHP. It's a foundational structure for programmers to create web applications. The main goal of cake PHP is to enable you to work in a structured and rapid manner–without the loss of flexibility. 
Also, CakePHP is one of the most accessible frameworks to learn, especially because of its CRUD (create, read, update, and delete) framework.
6 Yii 2: 
Yii 2 is another modern framework that is specially designed to be a solid foundation for your PHP application. 
It has many features such as fast, secure, efficient and works with reasonable defaults. This framework is very easy to adjust to satisfy your needs as it is designed to be flexible. 
It is designed on the concept of DRY(Don't Repeat Yourself). It can be easily integrated with jQuery and AJAX features. The lazy loading technique of Yii2 makes it faster than other frameworks in the mix.
Yii 2 is an object-oriented framework and the successor of one of the oldest PHP frameworks, Yii.
So, these are 6 PHP frameworks that are in high demand in 2020.
Using these PHP frameworks, you can simplify the development process, which helps to minimize workload. Each framework has its own Pros and cons, and they all vary in terms of community, documentation, and the database they support.
Notice
: compact(): Undefined variable: limits in
/home/brilntud/public_html/LIVE/brillinfosystems.com/blog/wp-includes/class-wp-comment-query.php
on line
853
Notice
: compact(): Undefined variable: groupby in
/home/brilntud/public_html/LIVE/brillinfosystems.com/blog/wp-includes/class-wp-comment-query.php
on line
853