How to Pick the Right WordPress Theme for your Business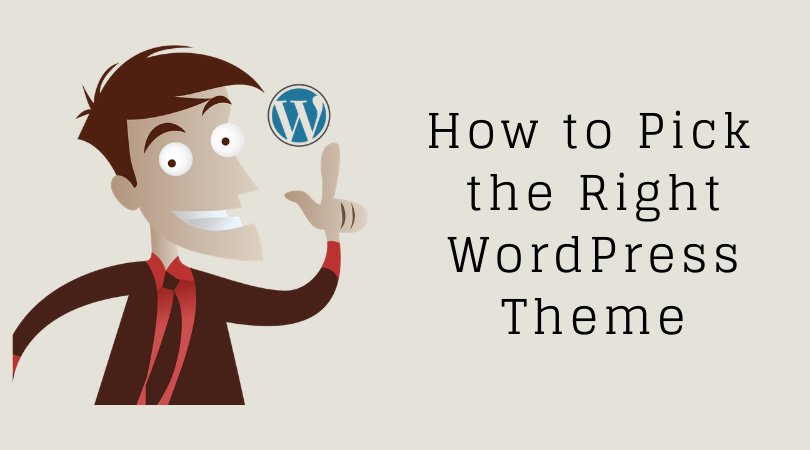 When you are given a thousand perfect options, it becomes difficult to choose the best one. 
Alike WordPress themes, if you're new to this, it's hard to pick the right WordPress themes that are suitable for your content. 
Themes are the skins that help to decide how your WordPress website looks. From layouts, colours and other design elements of your website are dictated by a theme. WordPress themes are mainly of three types i.e. parent themes, child themes, and theme frameworks. 
How to pick the right WordPress theme:
Well, almost all WordPress themes are parent themes by default.
Also, none of the themes is complete on its own. Before picking up a theme, you'll need to customize it or can extend it using a child theme. Sometimes, you may need to add some functionality in the form of plugins. With WordPress theme customization, it becomes easier to modify or update the theme according to your requirements. 
Here's some point checklist to help you select a perfect theme for your WordPress website:
1. Firstly match your theme with the website purpose. Well, the purpose of every website is different like some websites are looking for a simple blog or some complex e-Commerce website. Therefore, it becomes necessary that the theme you select must match this purpose.
2. After matching the theme, Check the budget of your theme. In choosing your suitable theme, the budget will play an important role. Before you start looking for a theme, decide on a budget and then go for a theme that matches your budget.
3. Check for the licensing options, as WordPress is open-source software, that comes with a GPL license. To suit the code for your requirements, you can do so by GPL license.nThis license enables you to use a purchased theme on various websites. You may want to go with a liberal or restrictive license based on your plans.
4. You can check the compatibility of your website on different browsers whether the theme you use is compatible with all types of browsers and operating systems. As there are many users working on different browsers and the theme you picked may look good as per your browser. So, it's essential to check the theme on different browsers like Google Chrome, Firefox, Internet Explorer, Safari, etc.
5 Examine the response of your website. Make a comparison that, is your website can drive the required traffic or not. Well, according to Google most of the traffic is driven by mobile devices. Therefore, Google shows mobile-friendly websites on top of its mobile search results. Choosing a responsive WordPress theme is Important if you want traffic to your website.
6. Check if the theme is lightweight & fast-loading. Well, the website search ranking factor depends upon the site-speed. Most users prefer the website that takes less than 3 seconds to load. So all you need is a theme that loads fast and is light on the browser such as Astra WordPress theme and Divi WordPress theme. These are very lightweight (less than 50KB on the front) and offer unparalleled speed.
7. Sometimes, you are unable to get the required result of the themes. To get the expected outcome, you have the choice to get the features from inhouse and outsource developers and can choose whichever is the most viable option for you. You can also hire expert developers on Upwork and Freelancer.
8. The selected theme must be optimized for searches and run with common plugins, on-page optimization is the pillar of SEO. Most of the good themes also come with basic scheme support for web pages and blog posts. It's very often that the WordPress site has no plugins. However, the chosen theme doesn't cause any conflict with these common plugins. But the conflict occurs when your theme includes the same code as the common plugins. 
These are some of the methods to select the right WordPress theme for your business. We often think that instead of wasting our time on selecting a suitable theme, we should focus on driving the traffic to the website or to create new leads for it. But it's necessary to select the theme and make customization before jumping into it.
Notice
: compact(): Undefined variable: limits in
/home/brilntud/public_html/LIVE/brillinfosystems.com/blog/wp-includes/class-wp-comment-query.php
on line
853
Notice
: compact(): Undefined variable: groupby in
/home/brilntud/public_html/LIVE/brillinfosystems.com/blog/wp-includes/class-wp-comment-query.php
on line
853