Future of Digital Marketing with Artificial Intelligence (AI) – Bright or Faded?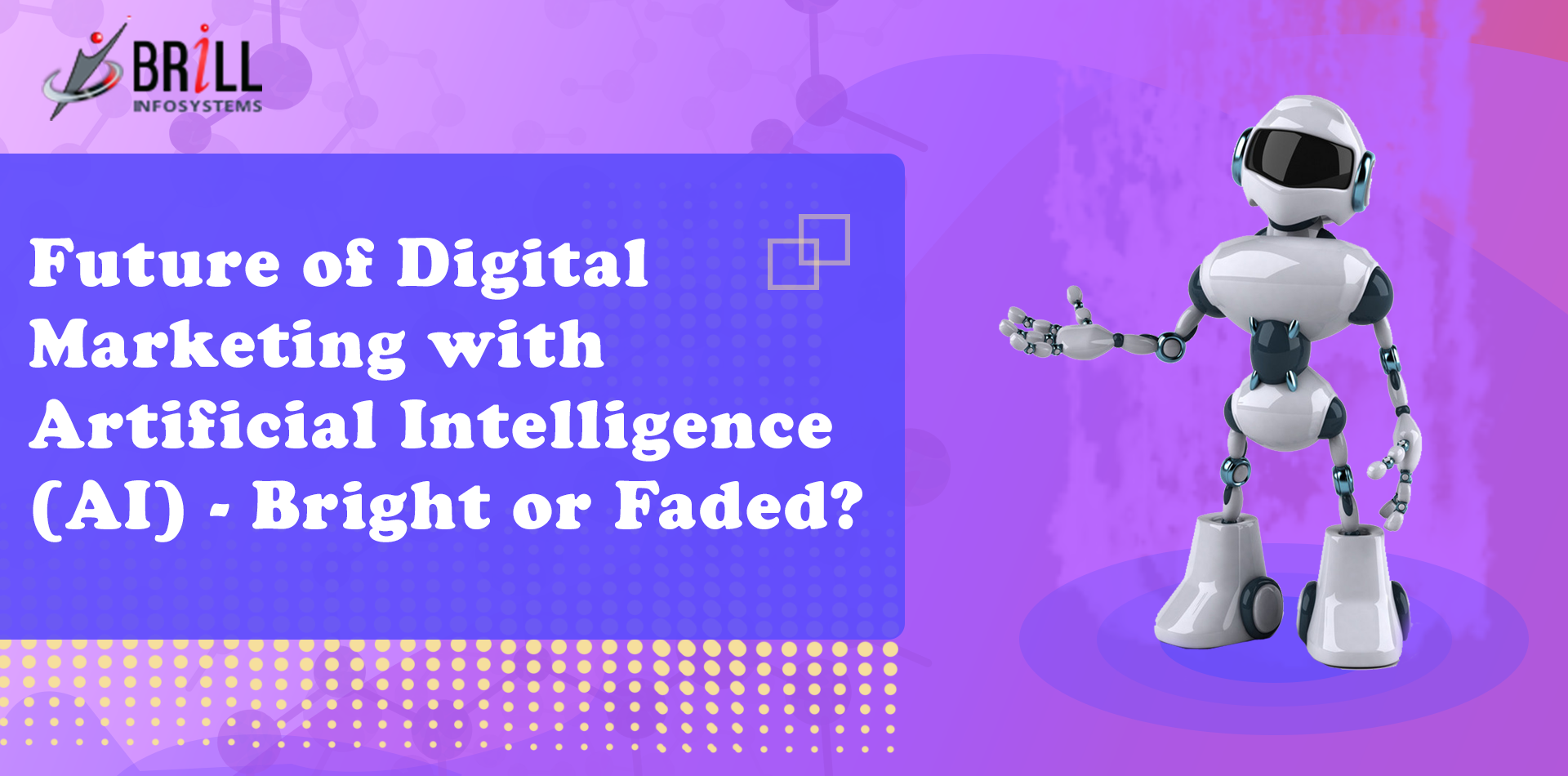 "Artificial intelligence is growing up fast, as are robots whose facial expressions can elicit empathy and make your mirror neurons quiver." — Diane Ackerman
Its been a quite long time when Artificial Intelligence was introduced in this digital era. The concept of AI is phenomenal for the whole of mankind as it is marked as a great revolution in the technical world that brought a new vision for humans to work and live with machines. 
In the start, many technocrats criticized this revolutionary concept as a great danger to mankind, nobody believes that machines can work and think like a human. But the concept of AI was so innovative and effective that no industry was able to resist from its addition to their work.
In the year 2019, AI is now becoming a part of many or we can say almost every industry. Many big giants of the market such as Google, Apple.inc. , Amazon and so on are working on AI. 
Nowadays, people have overcome the fear of its predictable result and becoming use-to with Artificial Intelligence in their daily lives. AI is part of almost everything and we can see its innovation in our daily usable things such as –
Smart Phones.

Laptops.

Smart TV's

Chatbots.

Cars.

Smart Kitchens. 
As the AI is now associated with everything, thus business owners are pushed to step ahead with AI. Starting from manufacturing, the AI is now being used to the marketing of a business. In this fast digital era, Digital Marketing is the concept that is becoming a necessity for every business who crave to generate huge business revenue and want to build a fabulous brand reputation. 
Top business bodies marked it that if any business wants to sustain for a long time in the market, then it need to digitalize its marketing strategy. 
Like every other digital aspect, digital marketing is also greatly affected by AI. All the components, strategies, tool and techniques are now being innovated with AI. Marketers are incorporating artificial intelligence in their digital marketing strategies that help them in reaching a point in which they can surpass humans in certain aspects and reach more potential customers.
Top Applications Of Artificial Intelligence (AI) That Change Digital Marketing Game – 
Easily Analyze Customer Behavior

 – In digital marketing weather we are working on social media ads or working for Adword, it is crucial to make efficient use of AI as it makes a marketer able to accurately define the targeted audience and campaign objectives. The AI tools automatically recommend strategies to serve your product to potential customers.
Also, tools like Google Ads, Facebook Ads are based on AI that serves a marketer to extract information from data and uses it to predict purchase trends and user behavior patterns.

Data-focused Content Generation 

– Talking about online marketing, content is King that helps to create brand image whether on social media or search engine. And creating content with AI was seems to be impossible. But the fact is, Yes, AI writers exist and can write new articles and create other content too. AI can write reports and news based on data and information that they collect from programmed sources. Many famous blogging websites such as Forbes or The Washington Post are working with AI content generation. 

Digital Advertising

 – Advertisement is the biggest source to get more and more customer. But the days are gone when you need to advertise something offline. This digital era needs Digital Advertisement and AI plays a great role in it. The major part of digital marketing is broadly covered by Facebook, Google and other such companies that are already using AI for their digital advertising. AI help all these platforms with a great of analytics report that includes a throughout of a user's interests, purchase, behavior or all other activities.
This help a business to easily reach to a potential customer without any hassle.

Scaled up Content Marketing

 – Isn't it so Amazing to serve the content only to the interested of targeted person. AI is not something that can write the only content for your business, it also helps to serve your content to the target audience with maximum force. If you in search engine marketing or social media marketing, AI help you in both to target focused customers only. On the bases of activities and behavior of a user, AI collects information and use it when it needs to show content. 

Enhances User Experience (UX) 

– The addition of some innovative AI tools such as Chatbots and other self-working algorithms with websites, greatly enhances the user experience. AI helps a website to display offers and content that are more appropriate for each user type. Also, getting a quick & 24/7 response from chatbots to add a great impression on users. 
All above-mentioned statements are enough to state that the future Digital Marketing with AI is so bright. However, AI is not yet completely developed as technocrats want, but still, it serving human in all needs. Thus, we can say AI is a game-changer for Digital Marketing. 
Have you used AI digital marketing strategies before? Kindly share your experiences in the comments section.
Notice
: compact(): Undefined variable: limits in
/home/brilntud/public_html/LIVE/brillinfosystems.com/blog/wp-includes/class-wp-comment-query.php
on line
853
Notice
: compact(): Undefined variable: groupby in
/home/brilntud/public_html/LIVE/brillinfosystems.com/blog/wp-includes/class-wp-comment-query.php
on line
853