Indian Agriculture, farmer's Lives and initiative by technology companies to make their lives Better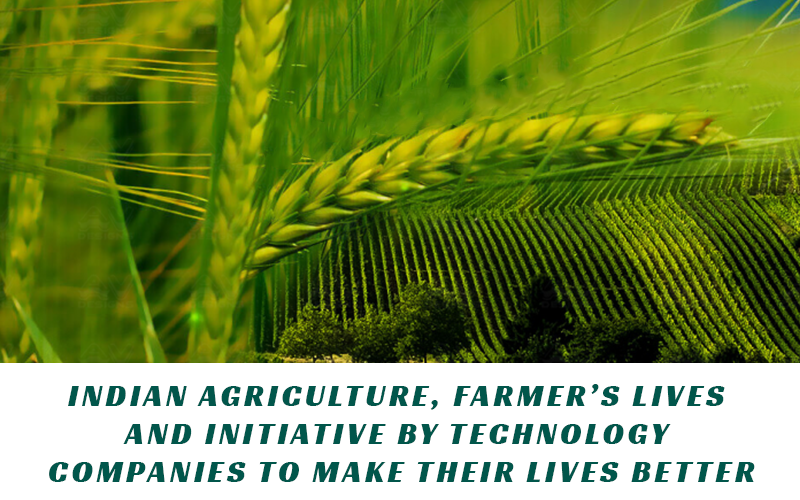 The transformation in Indian Agriculture started with the Green Revolution, which was followed by achievements of big milestones: Blue revolution, white revolution, yellow and Bio-Technology revolutions. Agriculture in India is the core sector for food security, nutritional security, and sustainable development & for poverty alleviation. It contributes approx. 18 % of GDP and almost 40% of total rural NDP (Net Domestic Product). Total of around 64 percent of the total workforce is engaged in agriculture or agriculture-based activities. After independence, there has been significant growth in Indian Agriculture with the grain production rising to 273.83 million tonnes this year. Still, there are big challenges to be looked into to enrich the agricultural growth in India.
1. Farmers' life and suicide Rate
So much said, but the fact remains that lives of farmers are pathetic and state of pillars of Indian agriculture is poor. Over 12,000 suicides were reported in the agricultural sector every year since 2013. On an average, every 30 minutes a farmer commits suicide in India. Government subsidies and other assistance provide some relief, but many small farmers remain illiterate and impoverished. The Indian farmer can't afford to pay for newer agricultural methods and technologies. Even, they lack access to Capital and credit resources to afford the new agricultural methods. Lack of policy to offer Minimum Support Price (MSP) adds to problems of farmers as they don't get proper price for their produce. Mostly, with the inability to get even the investments back, the farmers go for suicides as they are unable to pay back their loans.
2. Low Agricultural Productivity
Indian agriculture has immense potential to increase the farm-productivity and yield. There has been a steady increase in Hybrid and genetically modified crops, seed quality, irrigating methods, crop diversification, and value chains. But, still, the use of technology using sensors and GIS-based soil, weather forecast, water resources data, mobile-based farming, extensive market information data and data services and automation of farming using robots seems unachievable.
3. Traditional Farming and issues
Lot has been done to improve the farming, but still, Indian Agriculture depends on traditional farming methods, natural waters irrigation, and cultivation methods. Farmers are dependent on ground waters, rivers and rains. Over-pumping of water has led to falling in groundwater levels in some parts, where water-logging is leading to salty soils. In rain-fed areas, soil erosion and floods are major threats to Indian farmers across the country.
4. Food Storage and Wastage
Surprisingly, 40% of the total agricultural production is wasted every year in India, which amounts to the wastage of Rs 58000 Crores. India is a significant contributor to pre and post-harvest waste in cereals, pulses, fruits, and vegetables. Lack of storage and unorganized supply chain is the major reason for such a huge waste. Only 10% produce gets cold storage facility. Lack of transport facilities and even roads aggravates the wastage.
With the onset of the 21st Century and technical advancements which has happened all around the globe, the slogan was rephrased and raised with a call for use of technology in agriculture:
"Jai Jawan, Jai Kisan and Jai Vigyan".
We need to adopt modern technologies, infrastructure, use of IoT devices in the agriculture field, use of precision farming; big data analysis for better farming decisions, Use of AI or robotics and mobile and internet-based farming technologies etc. India strongly needs newer innovations and research in result-oriented agricultural technology and data. Here are the key technology areas, we need to focus on.
Precision farming
Increase in the productivity per unit of land is the key to enriched agricultural growth. Precision farming practices can help farmers get more precision based data like the use of the type of seeds, the number of seeds, nutrients, fertilizers and irrigation per unit of land. The real-time data using sensors, equipment, weather, water, GIS and GPS can help get more precision in analysis of land, nutrient values, moisture, irrigation or drainage required, expected vs real crop yields etc. Crop intensification and diversification data are provided by the Precision Farming. Precision Farming focuses on the utilization of resources optimally to increase the productivity and ROI. It reduces fertilizer and pesticide use, prevents soil degradation, utilizes water optimally and raises productivity. This technique also includes satellite imagery and information technologies.
Precision agriculture can improve the timeliness of planting, secure the best market prices through market information and e-market reforms, provide fertilizer subsidies via direct bank transfers that eliminate or reduce the cost of financial intermediaries and improve the agricultural extension. Combined with improved seed supply and land and water management, which can in turn increase double and triple cropping, farmers' income can grow.
Artificial Intelligence
The development and deployment of AI in agriculture are on the increase due to the availability of the precision data. AI-based modern and high-tech tools can help get precision to large-scale agriculture. Farm equipment can plant different densities of seeds and apply different amounts of fertilizer in different parts of a field. While AI has become a mainstay of the tech community, many of the major agriculture input companies, equipment manufacturers, and service providers have yet to vigorously pursue AI applications in agriculture. Prediction of advisories for sowing, pest control, spray pesticides, irrigating and commodity pricing can help increase productivity and income of the Indian agriculturists. Using remote sensing and GIS applications effective agricultural exhibition is possible to keep an eye on.
Agriculture and Big Data
Big data has now become a key player for use of technology for agricultural growth. Big data plays a major role in agro-business by improving crop yield, managing risk, and increasing productivity. Big data can help forecast weather, soil conditions, GPS maps, water resource availability, community market condition, demand-vs-supply and raw input cost. Data provided to farmers can help them to make timely decisions which can lead to astonishing results. Soil sampling data can help farmers to know the expected yield on their land, efficient use of fertilizers and pesticides which can reduce their input cost.
Farm Mechanization
Computerized farm machinery can be applied for cultivation, sowing, spraying, fertilizers and pesticides; and harvesting etc. Electronic sensors help automatic feeding and monitoring of the farm animals. This equipment can be controlled by GPS trackers, IoT devices and mobile apps for timeliness and getting precision. Remote controlled sprayers, sowers and irrigation devices can help change the traditional agricultural practices in India.
Role of Technology Companies
Top technology leaders like Microsoft, TCS, and other players are already working on the various products for the Indian Agriculture. AI-based Sowing App has been developed by Microsoft. This low-cost app has the features like predicting optimal date to sow without any installation of sensors on fields etc., which don't incur any cost to farmers. To analyse the future commodity prices, it has also developed a multivariate agricultural commodity price forecasting model. mKrishi is being developed by Tata Consultancy Services (TCS) Innovation Labs. mKrishi is developing a robust wireless sensor node which can installed by farmers per acre of land, which will make agriculture more efficient and predictive. Smart Farms, by CropIn Technologies, provides the cloud-based platform which is supported Mobile App to track the growth of crops on diversified locations around India. Automated aerators and feeders which can be controlled using mobile apps are coming up in the market. We at Brill Infosystems, are exploring the mobile apps which can give them more insights of the farm products prices, pesticides and insecticides updates and prices. Our apps will give all sort of information the farmer needs from best practices in agriculture, news, latest researches, prices and plans for Indian farmers.
Farmer policies and Government Initiatives
Since the Independence, the central and state governments have helped the farmers by helping them with financial assistance, subsidies, loans, waivers and special packages. National Policy for Farmers, 2007 was formulated and approved by Government of India, under the chairmanship of Dr. M.S. Swaminathan. Under the policy, the thrust is on improving the lives of Indian farmers, use of technology in agriculture, increase the use renewable energy and nanotechnology etc. and launching the 'Evergreen Revolution'. The Indian Government and other non-government organizations are working on Information Communication Technology (ICT) measures which include Village knowledge centers, e-Choupal, IFFCO Agri-portal and village resource centers (VRCs) etc.
Various schemes and facilities like Smart cards, Kissan Credit cards, Bharat Nirman, Kissan Call Centre and SMS portals etc., to help farmers have been launched by the Government. Crop and Farm Insurance plans under PradhanMantri Fasal Bima are the key steps. Various NGOs, welfare organizations, and agencies are working to uplift the lives of Indian farmers. Recently, the Government of India planned for various technology supported initiatives to increase the productivity and also giving them with a monetary support of Rs 6000 per year.
Conclusion
We need to target the intensification and diversification of farming across the various parts of the country. Best cropping patterns are to be enforced and advised to help farmers with high returns. The issues pertaining to poor irrigation, poor yield, low productivity, wastage etc. need to be looked into and effective use of technology has to be leveraged. The timely credit facilities at reasonable interest rates and farmer-friendly insurance policies are to be provided. Use of predictive technology can encourage farmers to for commercial crops and agricultural practices. Availability of insurance cover can insure farmers against climatic and natural calamities. The plight of farmers is an issue that impacts all of us. By helping Indian farmers, we can help ourselves to fulfil the increasing requirement of food.